The new Spacer 8600 NG –
the success story continues …
Mototok launches the Spacer 8600 NG, equipped with numerous innovative features that focus on safety and simplicity. Spacer 8600 is now considered state-of-the-art amongst compact pushback tractors – in terms of technology, economy and ecology.
Our towbarless tug is compatible with the most important short-haul aircraft:
Airbus A320 Family incl. 321 NEO
Boeing 737, Boeing 737 MAX
Embraer E-Jets
MHI / Bombardier CRJ
PERFECTLY THOUGHT-OUT DESIGN.
MAKE IT YOURS.
Electrically powered pushback tugs.
Powerful and emission-free electric motors provide enormously powerful driving forces.
One-person job.
Thanks to radio remote control providing 100% visibility, working with a mototok is a foolproof one-man operation.
Low space requirement.

Mototok can be parked directly in the immediate vicinity of the gate without becoming an obstuction.
More Revenue thanks to power of engineering.
Cost effective.
Enormous cost reduction in staff, operational and maintenance costs. Planning and scheduling becomes more easy and flexible.
Everybody can use Mototok pushback tugs!
A Half-day training for the staff is all you need. No driving license required.
One for three.
One Mototok pushback tug is able to manage up to three boarding bridges.
Eco friendly and low maintenance.
No fuel costs.
Fully electrive drive – green and carbon dioxide free.
Fast recharging.
Recharge Mototok Spacer fully in about 3 hours. Up to 30 pushback operations are possible with one battery charge.
Low Maintenance.

Compared to conventional combustion engines and other drive arrangements electric motorised machines are much less accident-sensitive.
The enhanced SPACER 8600 NG has new features that further simplify operation on the tarmac e.g., onboard charger with CEE plug, so that it can be charged wherever an industrial socket is available, remote control now features an integrated display and many more.
On Board Charger with CEE Plug –
Charge anywhere anytime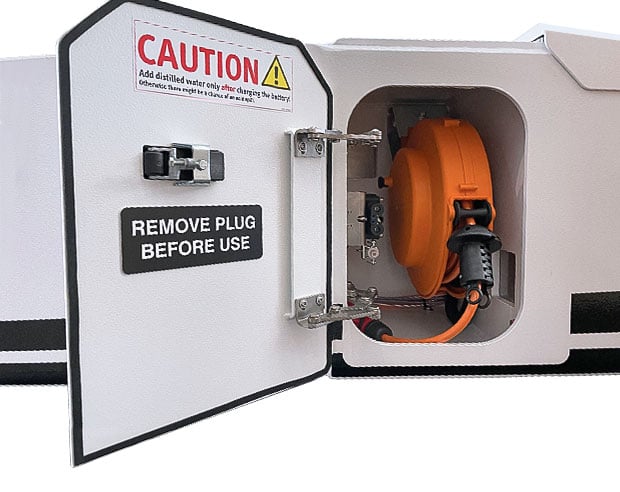 Charger stored inside the vehicle
Cable stored inside the vehicle
No fixed charging points
Self retracting cable optimal for everyday usage
Automatic cable drum left or right attachable
Integrated Towbar for towing the Tug
with integrated storage compartment
Professional Safety radio Remote Control
2,8" TFT LCD Display (240x320 Pixel, 65536 colors)
Safety performance up to PL e, SIL 3
Protection level IP65 and seawaterproof design
Dead man switch (falling)
Fall safe 1,5 m
Safe connection start up function
Frequency scanning and hopping
Secure key for safe access
Lithium battery with BMS and 9h battery life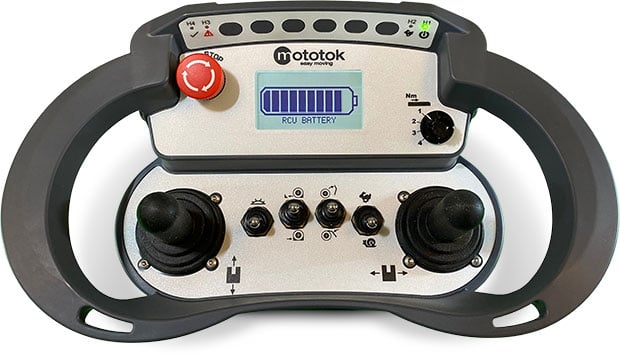 "Internet of Things (IOT)" - Interface
Mototok comes with a central processing unit (CPU) for features and adjustments relating to:
Towing and braking forces
Oversteering protection and counter steering
Unit diagnostics and health monitoring
Log files
The key data of the CPU
Intel® AtomTM E3826 system-on-chip (SOC) processor

2 GB DDR3L SODIMM 1066 MHz, non-ECC (up to 4 GB)
Built-in GNSS, WLAN, Bluetooth, and WWAN (with a dual SIM card slot) modules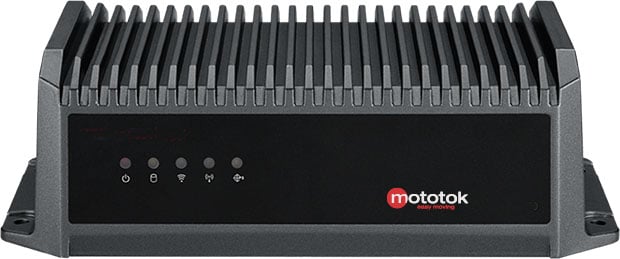 Next Generation Permanent Magnet Synchronous Driving Motors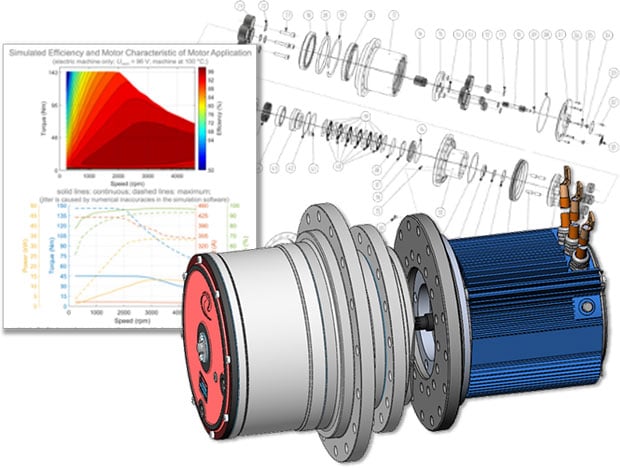 Developed from university spin-off
Newest marked available technology:
Magnetic flux field control · IPM technology
Energy efficient:
Permanent magnets · Synchronous machine · Efficiency more than 96 %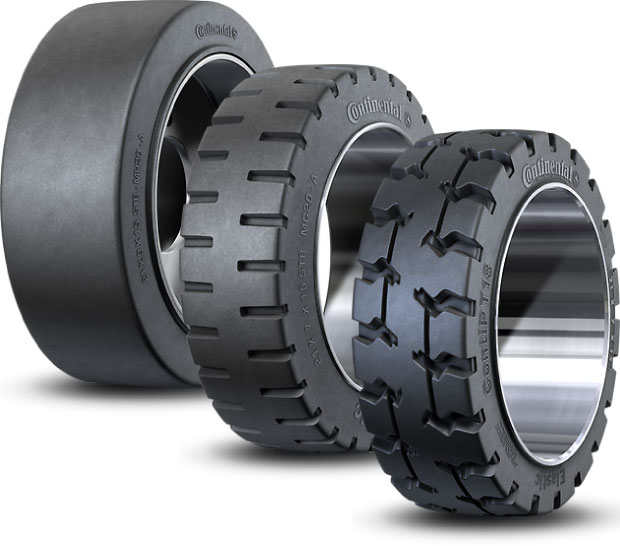 With a specially designed load-bearing construction, the tyres used by Mototok for the Spacer 8600 NG enable safe transport of heavy loads with small wheel circumferences. The rubber compound guarantees high mileage and at the same time outstanding cut resistance with very low rolling resistance. A discussion with our specialists will clarify which tyre is specifically required for your application.
All tyres are characterised by:
High tipping stability
High load capacity
Low rolling resistance
Robust construction
High traction
Good lateral stability
These are the advantages of the new Spacer 8600 NG in comparison with our previous model
| | | |
| --- | --- | --- |
| More power | → | Possibility to use 96V Batteries |
| Higher range and time of use | → | Possibility to use 400 Ah TSD Batteries |
| Faster loading automation | → | increased hydraulic volume flow |
| Better traction | → | new Continental rubber tires |
| Lower service costs | → | Separate rim, tire, gear and motor for Service and Exchange |
| Improved service time | → | Easy checking and changing tires without a large lifting platform |
| Tool free recovery | → | Disengageable wheels from the new multi disk brakes, gears and engine |
| Tools Integrated | → | Tow bar for active and passive castors every time on board |
| Improved Lighting | → | Direction of Front, Rear, Break and Direction lights switch depending on driven direction |
| Anywhere Charging | → | Onboard charger with automatic cable drum universal CEE plug |
| Improved Remote Control | → | lithium battery, display, user interface and tool free exchangeable |
| Save stop | → | feature for emergency, remote disfunction, radio range limit |
| | | |
| --- | --- | --- |
| width | 2,760 mm | 108.66" |
| length | 3,500 mm | 137.8" |
| height | 658 mm | 25.91" |
| unladen weight | 5.1 t | 11,240 lbs |
| track width engine | 2,075 mm | 81.69" |
| wheelbase | 2,775 mm ± 120 mm | 109.25" ± 4.72" |
| battery | 96 V / 4 x 330 Ah | |
| voltage | 96 V | |
| lifting weight | 10 t | 22,000 lbs |
| towing capacity | 105 t | 231,500 lbs |