Automatic success. No problems, no mistakes.
Automatic Steering Control.
Our automatic steering control option uses a laser guided camera to follow a line directly on the ground.
Millimeter Accuracy.
Mototok aircraft tugs follow the guiding line within a range of 3 mm, thus making your automated guided vehicle operation highly accurate.
Erase Human Error.
Fully programmable speeds, braking curves, initial torques and oversteering protection controlled and regulated by an internal microprocessor.
AUTOMATED GUIDED VEHICLE STEER WITH UNBELIEVABLE PRECISION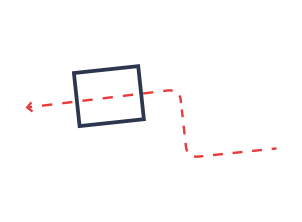 ULTIMATE SAFETY

Mototok is the right tug for the tightest turn anyway, but you might need even greater safety and programmability for your field of application. That's why we worked out our automated guided vehicle steering option - and it's accurate beyond comparison.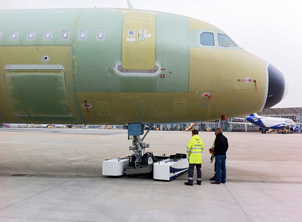 DEAD-ON PLACEMENT

E.g. on production lines during aircraft manufacture, Mototok is a versatile tool that can be used with great flexibility. During assembly, Mototok automatically moves the aircraft fuselage to the individual assembly points.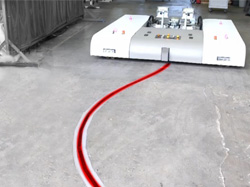 STILL TOO TIGHT? USE MULTIPLE TUGS SIMULTANEOUSLY

With very constricted room available, more than one synchronized Mototoks can be utilized, and if need be, we're happy to work with you to develop the optimal path through your hall.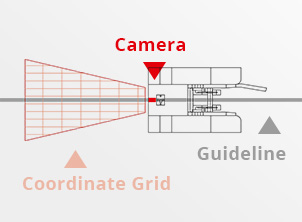 HIGHLY IMPROVED PROCESSES

So this is how it works: A camera continuously scans the floor below the mototok, where a solid line of defined width is recognized as the guiding line. The camera recognises the position and curvature of the guiding line within a range of 3 mm. If there is a variation in parallelism, it reacts with control signals that are led to the drive wheels. By means of different rpms of the two drive wheels, steering is then initiated – mototok follows the line with millimeter accuracy.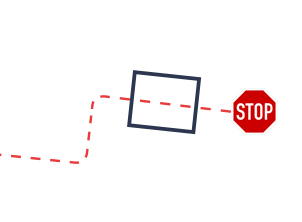 UTILIZE COMMANDS FOR FULL AUTOMATIZATION

Using bar codes installed on the hall floor, stop commands can be triggered, nose wheels automatically disengaged, and junctions taken into account.
Use Mototok for automatically maneuver aircraft.
This case study shows how to maneuver a fuselage through a production hall during manufacturing an aircraft. Two Mototoks pulls two carts on which the fuselage is mounted.