How the world perceives Mototok
Mototok is leaving its traces. All over the world, our high technology is attracting attention – in all areas of aviation.
Over 3000 Pushbacks with Mototok at Madrid and Barcelona
We are pleased to announce that IberiaAirportServices has made over 3000 pushbacks in their tests with our Mototok Spacer 8600 in Madrid and Barcelona.
More information on grupo.iberia.es
Credits video: Iberia
Dassault rolls out its new Falcon 6x
On December 8, 2020, the ultra widebody Falcon 6X made its debut in Dassault's Charles Lindbergh Hall in Bordeaux-Merignac. It was streamed online for a global audience and hosted by noted TV journalist, Miles O'Brien. The show featured Eric Trappier, Chairman & CEO, Dassault Aviation, Carlos Brana, Senior Executive VP, Civil Aircraft, and others; with interviews, videos and, of course, the star of the show, the 6X. The new aircraft was pulled – of course – by a Mototok.
More information on dassaultfalcon.com
Iberia operates its Pushbacks with Mototok at Madrid anD Barcelona
Despite the impact of the COVID crisis on the entire aviation sector, Iberia, including its handling and maintenance businesses, continues to be committed to innovation and sustainability, and is once again a pioneer with the incorporation of the latest technology.
Iberia Airport Services is incorporating "Green Pushback" vehicles at Madrid and Barcelona airports, an innovative electric aircraft tractor that is controlled by remote control and used to tow the aircraft backwards before the departure of each flight.
More information on iberia.es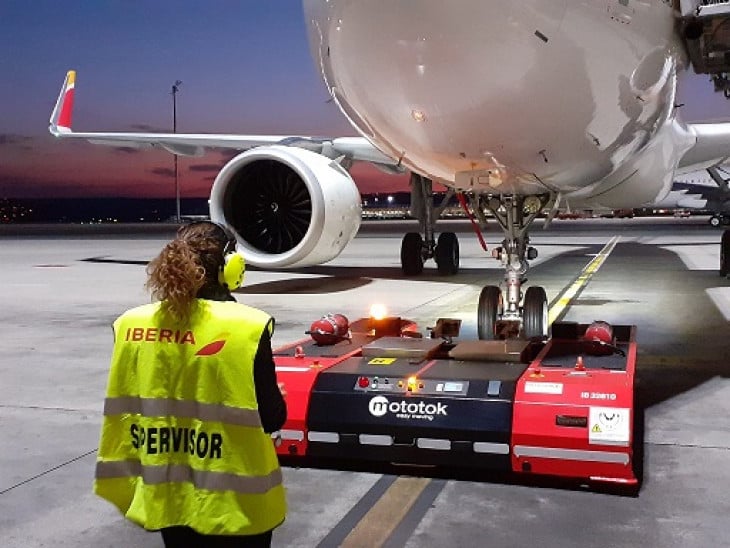 More than 100,000 Pushbacks on Heathrow T5A with Mototok Spacer
British Airways has celebrated its 100,000th aircraft pushback using the airline's fully-electric, remote-controlled Mototok devices, which have been used to swiftly manoeuvre the airline's 140-strong short-haul fleet out to the runway for take-off for the last two years.
British Airways is the first airline to use the eco-friendly, emissions-free Mototok tugs, which replace traditional diesel tugs and are part of the British Airways' wider environmental commitment to run an emissions-free airside operation.
More information on britishairways.com
Mototok: Ground Support Worldwide 2019 Product Leader of the Year
"Mototok company launched a vehicle that simplifies the pushback operation with a straight forward interface, and hence doesn't require an additional license to operate. That, in turn, allows more members of ground handling personnel to perform these duties with the push of a button and drastically reduce delays. For these reasons as well as many of the Spacer 8600's other innovative features, Mototok has been named the Ground Support Worldwide 2019 Product Leader of the Year."
Read the whole article on AviationsPro.com.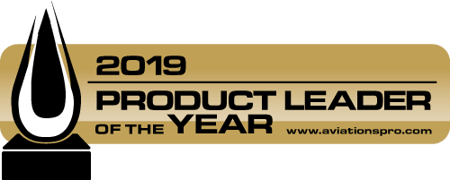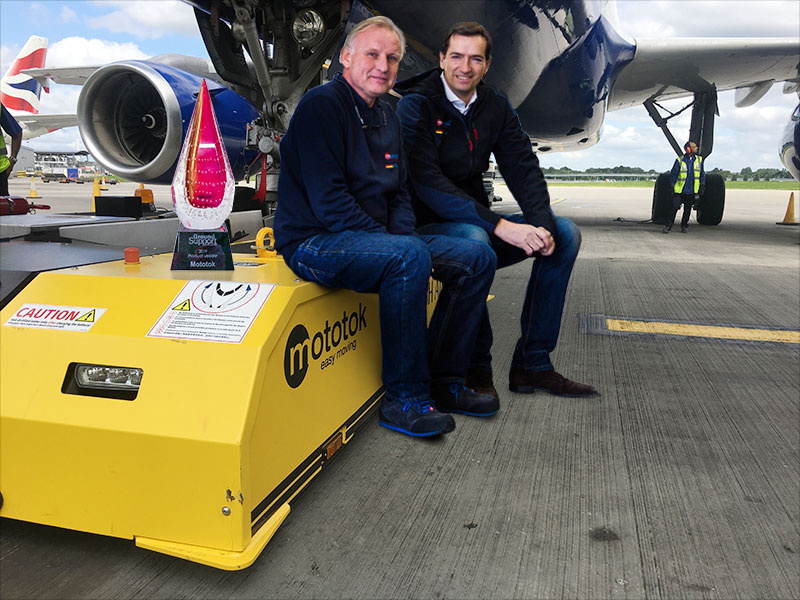 Eliminate the waiting time for an conventional pushback tug
British Airways is using 28 Mototok SPACER 8600 to push back airplanes. Using this new electric robot has resulted in a 54% reduction in delays at Heathrow Airport T5. It has also reduced emissions and is surprisingly easy to maneuver.
See, what Tech Insider says about the innovative way of pushing back aircraft with the SPACER 8600 and the SPACER 195.
More information on businessinsider.com