A big idea in a small format.
Name: Mototok. Distinguishing features: Fully electric drive. Revolutionary in its simplicity. Extremely compact. Uniquely flexible. And very high performance. With the remote control feature of the Mototok, the operator is able to move anywhere around the aircraft to see every vantage point. The operators eyes never leave the aircraft while it is in movement.
Mototok. A wide range of tugs for a tugload of applications.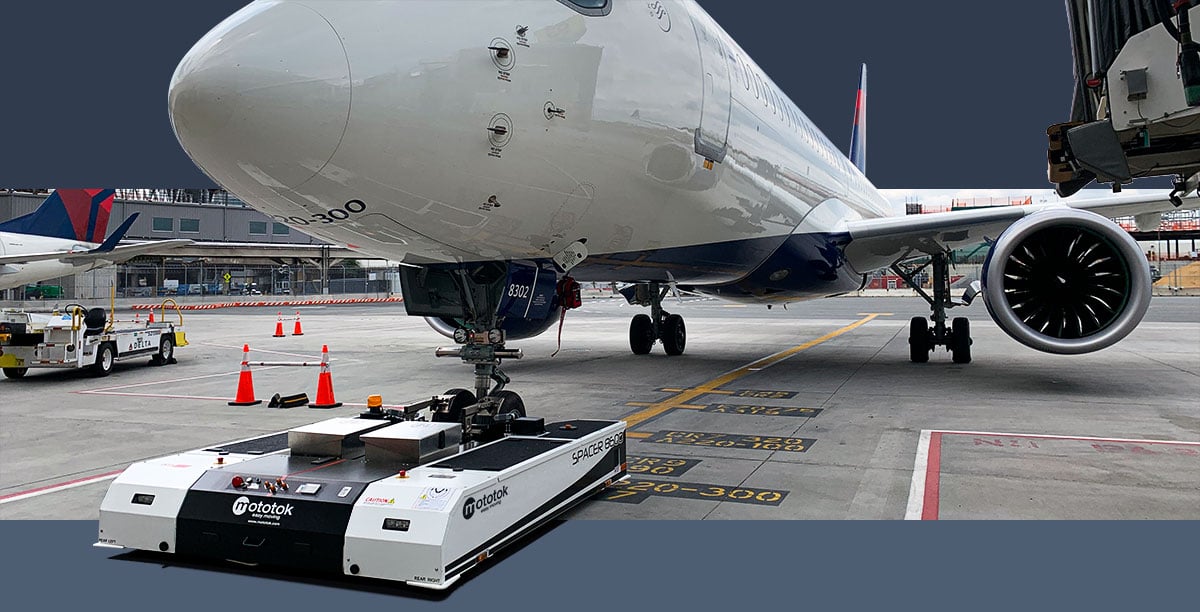 Mototok SPACER 8600PB with an Airbus A220-300 · Field of Application: Pushback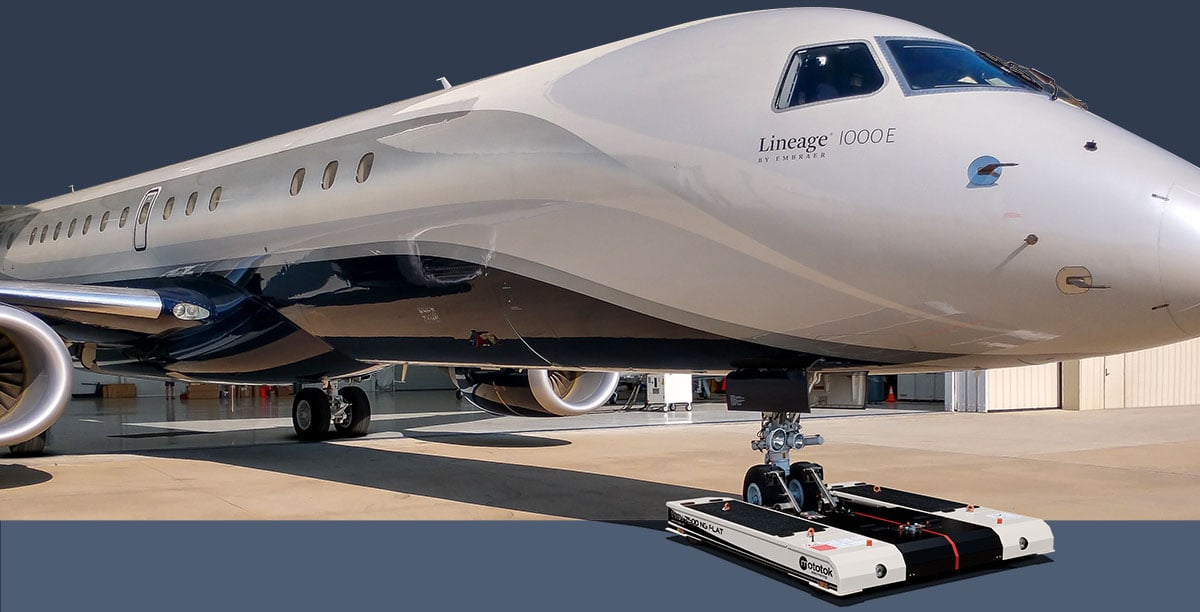 Mototok TWIN 7500 NG with a Lineage 1000 · Field of application: MRO/FBO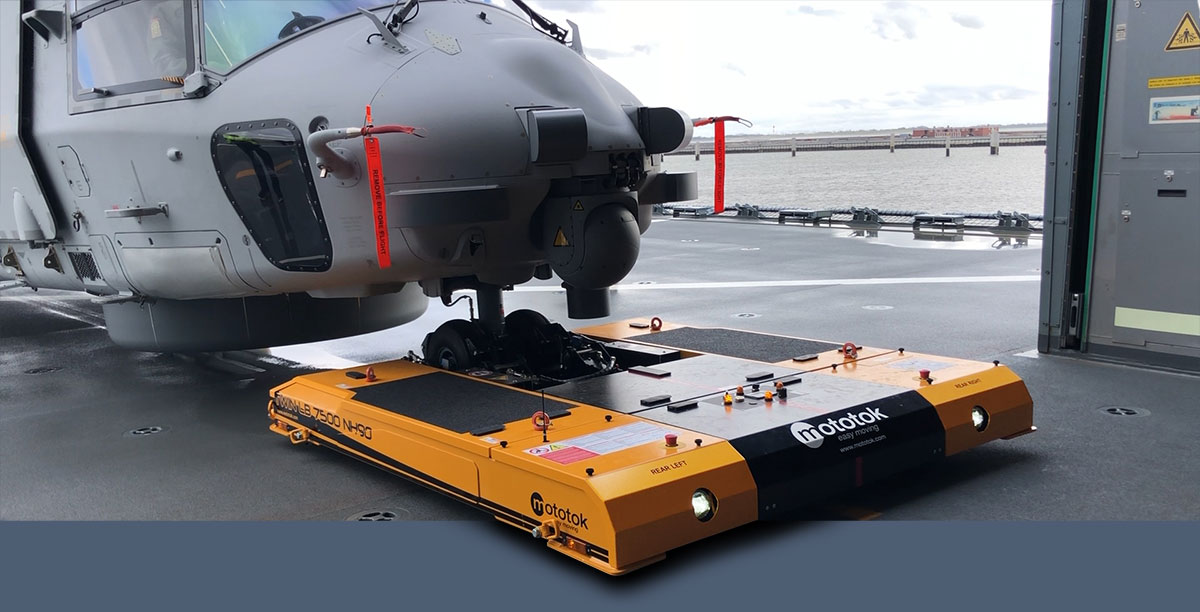 Mototok LB 7500 with a NH90 · Field of Applikation: Military and other Forces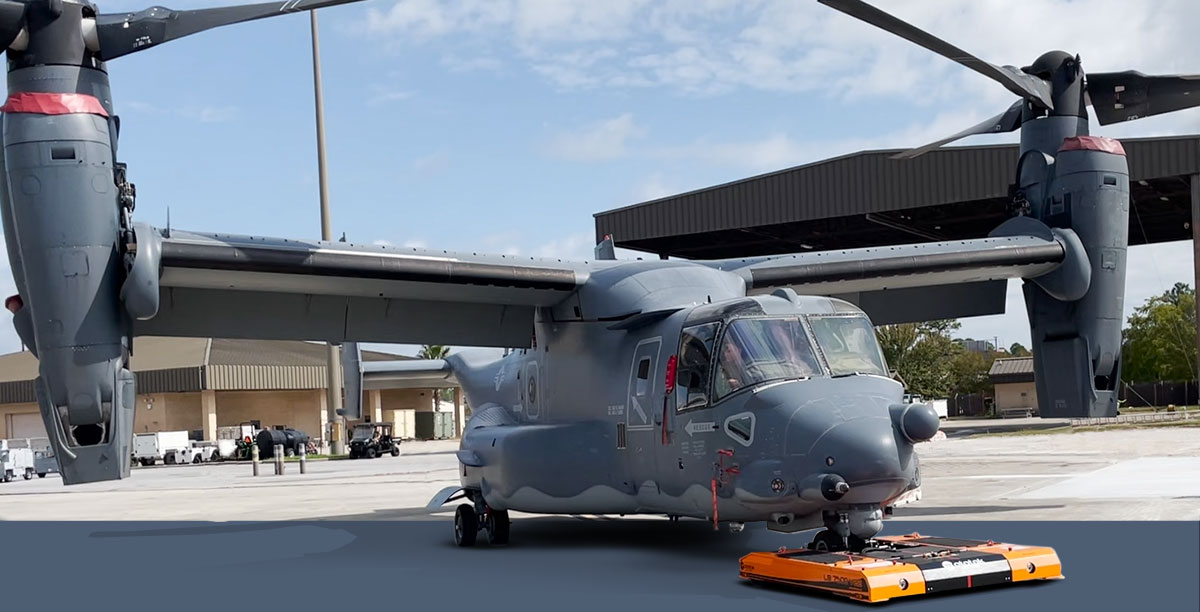 Mototok LB 7500 tows a V22 · Field of Application: Military and other Forces
There is no safer way.
Fully hydraulic and sensor monitored nose wheel platform.
Safety is always the top priority in the development of mototok tugs. It is a very safety-relevant process that can have fatal consequences if operated incorrectly or with inadequate technology. Therefore, mototok has always considered the loading process with special care.
For this reason, the loading process at Mototok is fully hydraulic, sensor-monitored and largely automated. The hydraulics also allow automated adjustment to a wide range of nose wheel diameters.
The whole loading process takes only about 15 seconds – there is no quicker way to connect a tug with the nose gear.
Electrical strength. Max torque from speed 0.
Extremely powerful electric motors driven by high-performance, maintenance-free batteries with high cycling capability, regulated and controlled by two microprocessors provide enormous driving forces. The high initial torque ensures smooth acceleration, particularly at the start.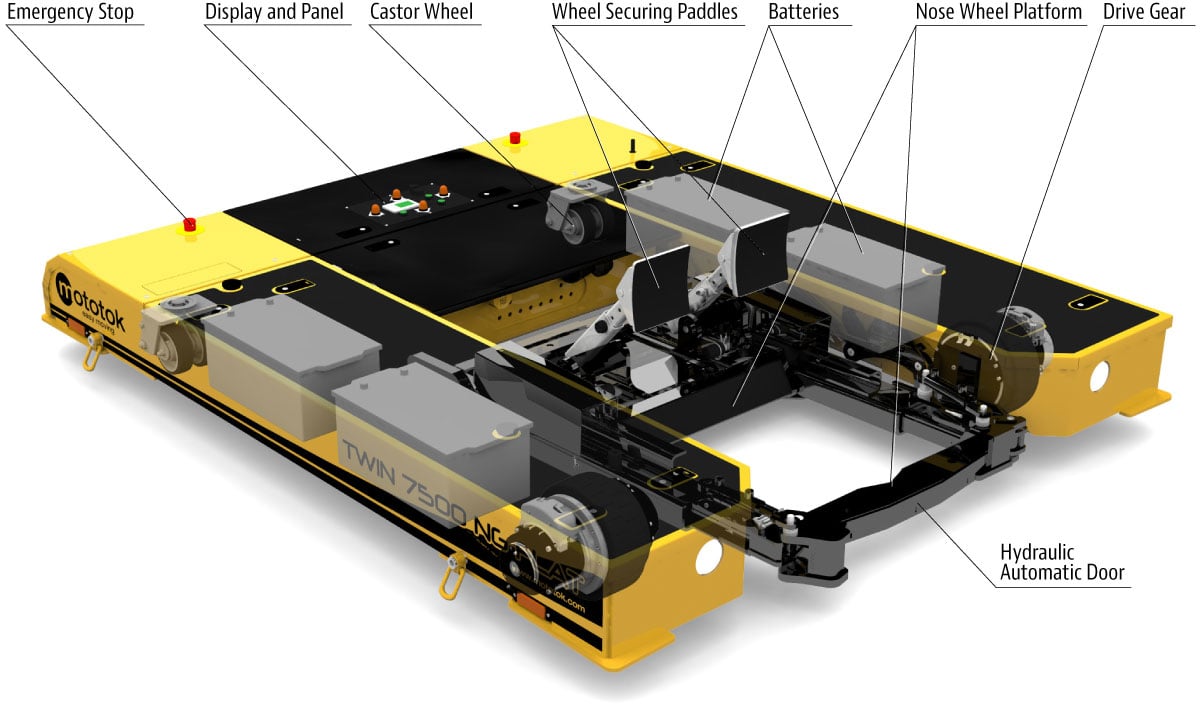 Extremely compact. Saves space in your hangar.
Mototok is compact. Very compact. Mototok fits under virtually any aircraft. Even for helicopters, for example like NH90 or VC22 with very low ground clearance due to mounted accessories such as radar and flir-systems, Mototok has the solution.
Your unique advantages: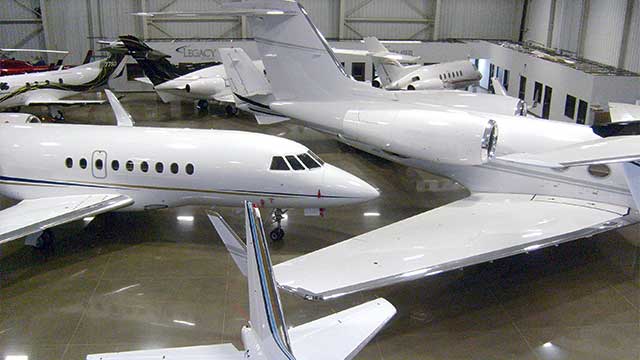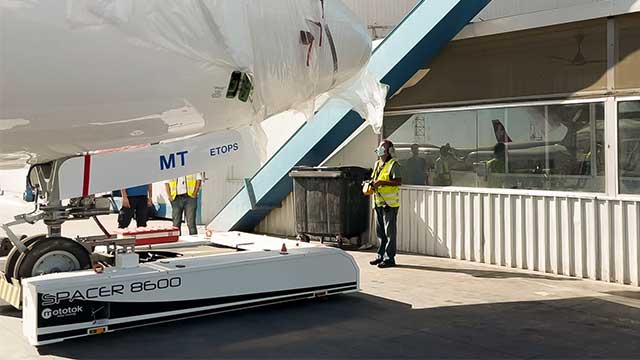 Park the aircraft directly in a corner of the hangar or in front of a wall to make the most of the available space and expand hangar capacity by up to 160%.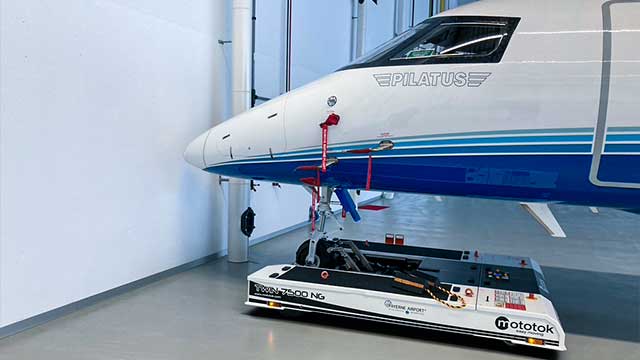 Due to its compact dimensions, the Mototok-tug passes under the aircraft fuselage. This makes it highly flexible in all situations where space is tight. Additionally the nose wheel can also be picked up from all angles.
Mototok leads. That's why the leader trust Mototok.
Mototok has been developing electric, remote-controlled aircraft tractors at the highest technological and innovative level for over 20 years. During this time we have achieved market leadership in compact electric tugs up to 200 t (441.000 lbs) towing capacity. This is shown by the customer list, which includes some of the biggest players in the market.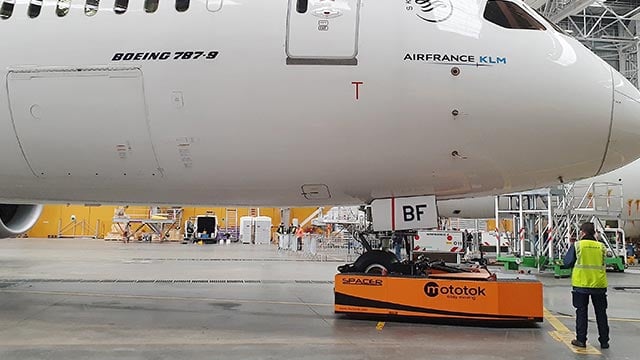 AirFrance: Spacer 200 with a Boeing 787-9 maneuvering in a hangar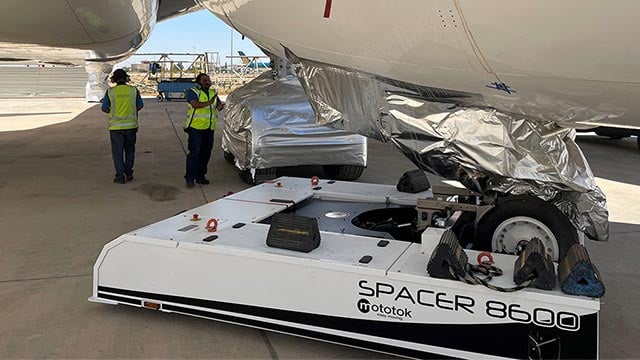 Joramco: Maneuvering narrow bodies with a Mototok Spacer 8600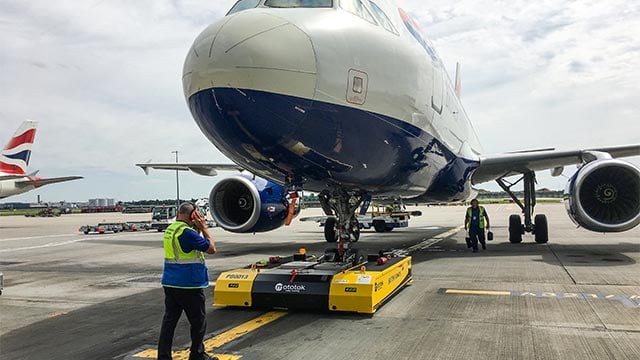 British Airways: Pushing back Aircraft on London Heathrow T5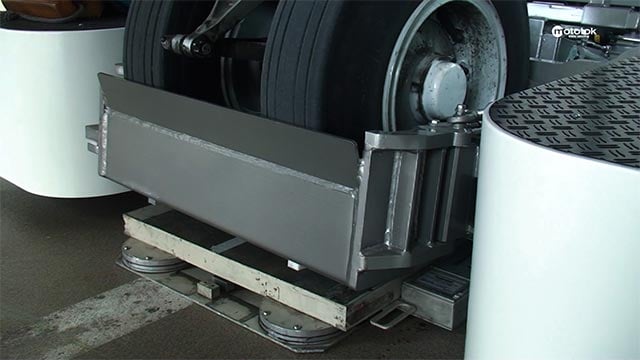 Iberia: Mototok Spacer 8600 lifts a nose gear for weighing
This is what our customers say. Mototok convinces.
Our Mototok is the second best piece of equipment in the hangar (the airplane is first)! The ease of operation and the ability for one person to safely maneuver our plane in and out of our hangar because of the industrial remote control wing walker feature is unbeatable. This is a quality machine, very reliable.
Steve Nelson, Aviation Manager & Chief Pilot, TLS Aviation LLC
I didn't need to build another hangar to increase my revenue, purchasing the Mototok did that for me.
Karl Danielson, Vice President Aviation, Dragon Leasing
The high and precise maneuverability was the key factor when ordering second and third device following year. Thanks to it one of our facilities has increased their capacity from 7 to 10 parallel lines.
Andrzej Borowczyk, Logistic and Purchasing Deputy Manager, Linetech S.A., Poland
Maintenance over the air. The Mototok cloud.
Mototok comes with a central processing unit (CPU) for features and adjustments relating to
Towing and braking forces
Oversteering protection
Unit diagnostics
Log files
User access
The CPU can be linked with any mobile device (smartphone, tablet or laptop) via Bluetooth, WLAN or USB and a standard internet browser (like Microsoft Edge, Apple Safari, Google Chrome or Mozilla Firefox). Once you are linked to the system, you are able to manage many kinds of adjustments of the Mototok.
The log in can be done via a RFCI-card and a card reader on the machine. According to the authorization level, the user is able to move the Mototok, check or adjust the settings or read out the log files.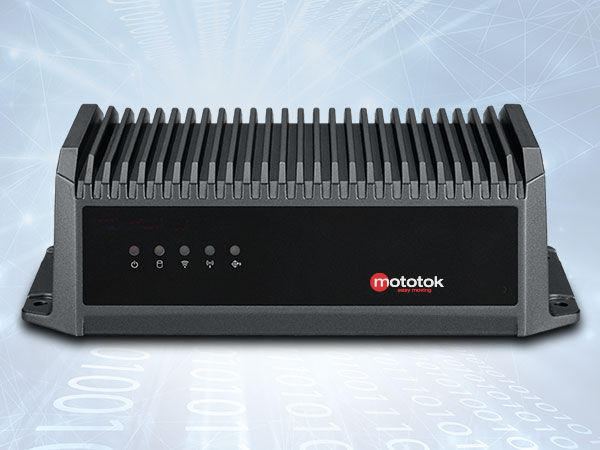 Remote access – technical support out of the cloud.
Everything in sight – from everywhere. Always receive information about the condition and the battery status, the location and activities of each Mototok in your fleet. Connect virtually with our Mototok technicians to quickly get help with any technical problems you may have.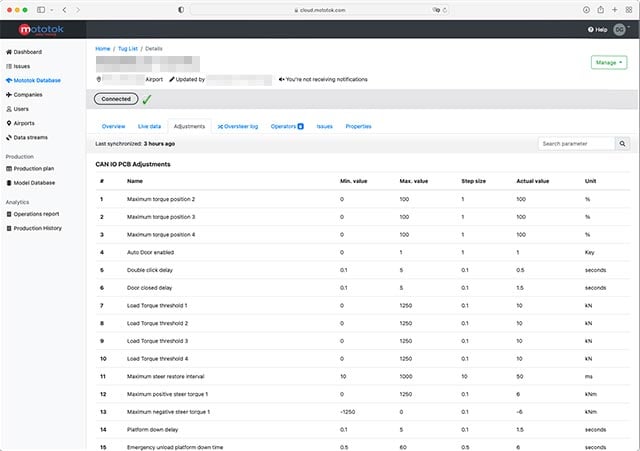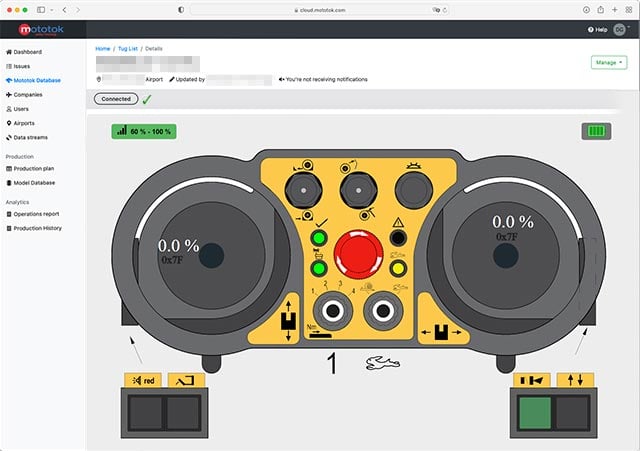 Oversteering Protection. Safety for the nose gear.
With the help of the optional Oversteering Protection System, excessive stress on the nose gear due to oversteering or other destructive forces is eliminated. When a defined torque is reached, the Mototok warns the operator and shuts down if the warning is not heeded. If the Mototok is equipped with our I-NPS (Intelligent Nosegear Protection System), the Mototok initiates a countersteering to eliminate the overtorque situation. The Oversteering Protection System is available for both single and double nose wheel.
This feature is recommended if unhooking the torque link of the nose gear is not intended or not possible.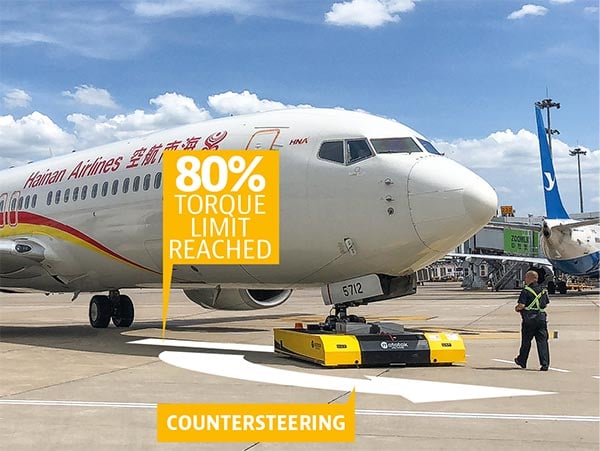 Mototok. A wide range of tugs for a tugload of applications.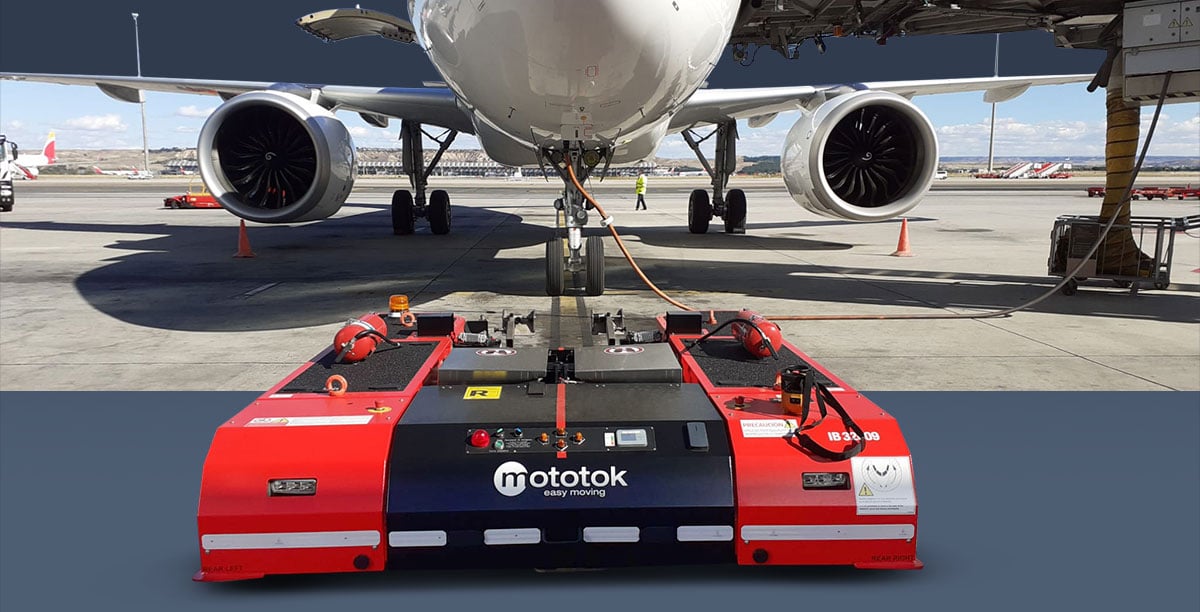 Iberia: Mototok SPACER 8600PB · Field of Application: Pushback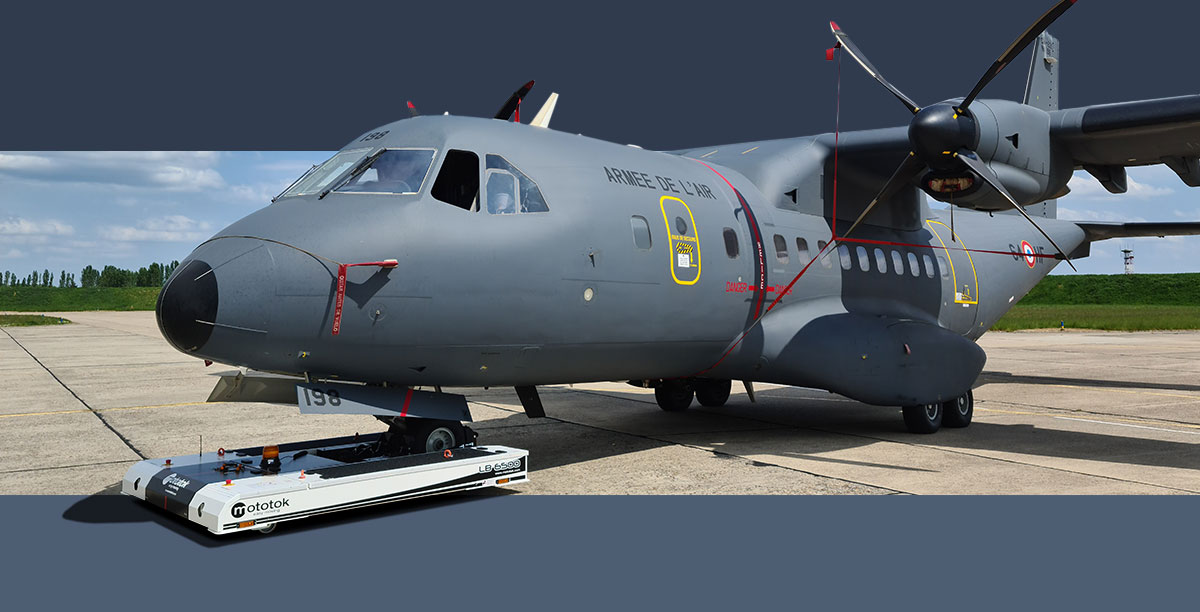 Mototok LB 6500 NG with a Casa 235 from the French Airforce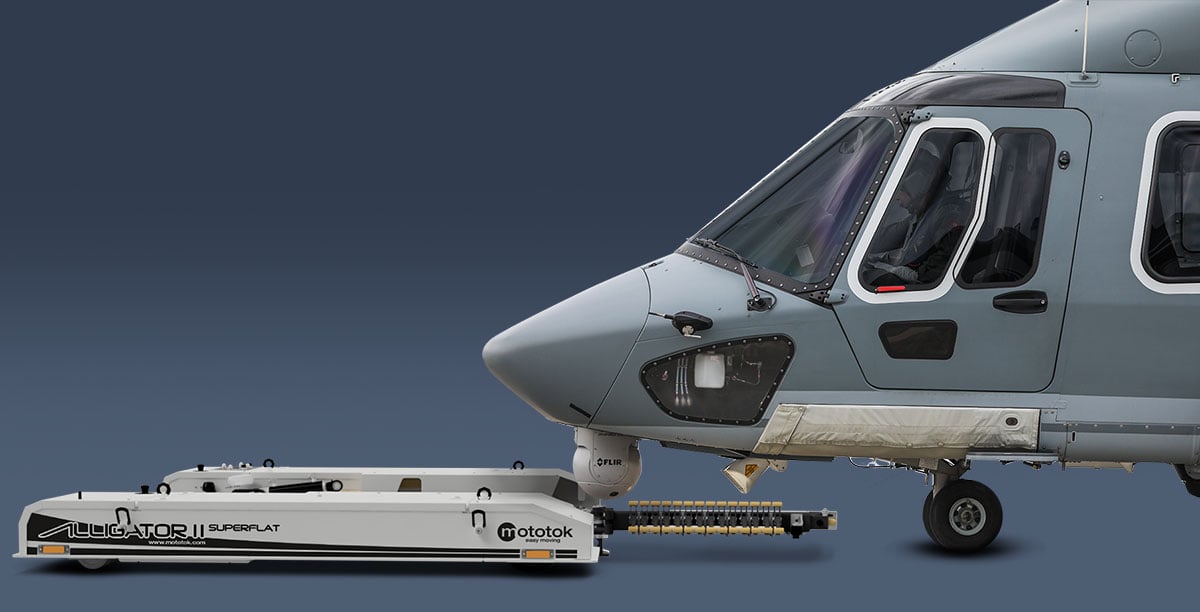 Alligator with an Airbus H175 · Field of Applikation: Military and other Forces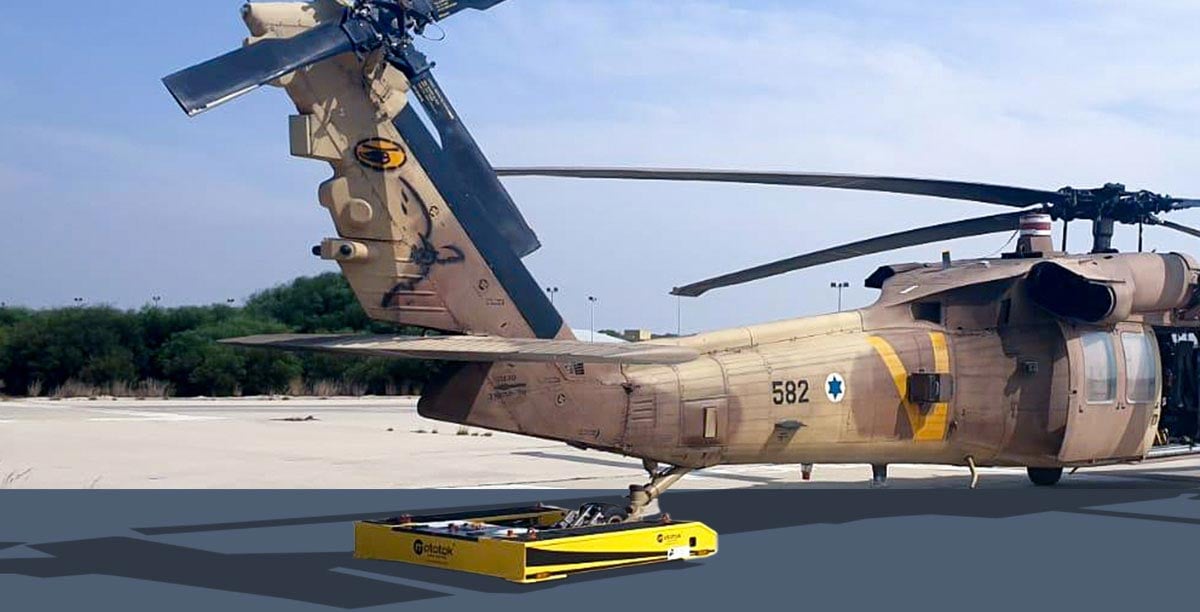 Mototok LB 6500 tows a Blackhawk · Field of Application: Military and other Forces
A wide range of Models to suit your needs.
Mototok has a wide range of electrically powered towing tugs. Diversifications in both towing capacity and application range ensure that the right tug is available for your needs.
You can download the latest complete brochure
here.
More Revenue. Increase profits with cutting edge technology.
Cost effective
No need for maintenance plans, no special licenses, no highly skilled staff: Mototoks' low maintenance and personnel costs effectuate the quickest ROI of the industry. Utilizing cutting edge technology, using an electric Mototok is a simple one-man-operation.
Time and Space Efficient.
Connecting our electric tugs to your airplane's nosegear is a matter of seconds, and thanks to its highly precise maneuvering abilities and elaborate design, Mototok reliably optimizes usage of limited space in the hangar and on the apron with no need to recharge for days on end.
Safe and Easy.
Get it done with a single machine that's adjustable to every wheel size, fully programmable to eliminate human error, automatically connects to the nose gear completely hands free with no further equipment required in about 10 sec, and is powered by an emission-free electric drive to be operated both inside and out.
More Safety. We care about your aircraft.
i-NPS: Intelligent Nosegear Protection System.
No chance to oversteer the nose gear due to the programmable oversteer protection and counter steer system.
Accurately maneuverable.
Mototok turns exactly around the same spot as the nose gear turns itself. That results in no movement of the aircraft's wings or fuselage during turning the nose gear whilst in stopped position.
All-round view.
No knocks, no collisions, no wingwalker: Our high-tech radio remote control with worldwide safety approval on and off the airport provides 100% circumferential visibility to keep tight spots in plain sight.
More Flexibility. Advantage through a wide range of possibilities.
Capable for a wide range of Aircrafts.
Hydraulic diameter adjustment for different wheel sizes – one Mototok tug moves every corporate aircraft regardless of its size, weight and wheel diameter.
Full traction.
Mototok gives you the highest traction through its special tyres. And due to the sum of weights of the aircraft and the Mototok itself in combination with the high powered electric drive with its high torque you will master all shunting tasks even on slippery ground like on snow or ice,
Plug and Charge.
Quickest charging times in the industry and no special electrical requirements. Move airplanes up to 2-3 days (depending on workload) without recharging. With our pushback machines you can manage up to 25 pushbacks with one battery charge. And with Mototok's built in ground power unit (24/28V) in most of our models you can start up the aircraft engines without using a second unit.